THE COMIC
Artist: C. Verity
Writer: C. Verity
Updates: Monday, Wednesday, Friday [when I can]
Began: November 27th, 2005
Art style: Comic strip
Rating: Mature/Web-14 (For strong language and sexual humor.)



ADAM "GENERAL" LEE
Age: 19
Date of birth: May 5th
Nationality: English
About: Adam is Sei's much more sane and level-headed counterpart. He loves Sei dearly, but often wonders about him. Mostly about how he hasn't maanged to kill himself by accident yet. He used to worry, but he's used to it now.



SEITEKI "SEI" SAKKOU KENSHIKIMA
Age: 19
Date of birth: December 11th
Nationality: Japanese
About: Sei is a very spastic teen, inherently perverted and rather unintelligent at times. Occasionally, he can show brief moments of wit. He very much loves Adam and fears Sana.



SANA RINAN
Age: 17?
Date of birth: ?
Nationality: Hell?
About: Sana is a very angry demon who, for some reason that will probably never get explained seeing as this comic has no plot, hates Adam and Sei and rooms with them.



C. "CELES" VERITY
Age: 16 [DECEASED]
Date of birth: November 7th
Nationality: American
About: Celes is one of the geekiest kids ever. THAT IS WHY SHE IS NOW DEAD. (I'm so nice to myself.)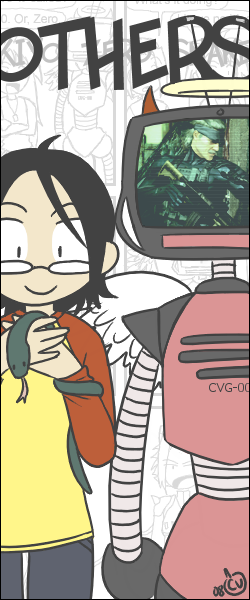 R. "KIYO" PEARSON
Age: 14
Date of birth: October 13th
Nationality: English/Scottish
About: Kiyo is really cool. Like, if you met her, you'd be like, "Wow, she is cool." She also made Adam.

SNAKE
Age: 1
Date of birth: ?
Nationality: Uhh... snake?
About: He's a snake.

CVG-00 "ZERO"
Age: 0
Date of birth: June 26th
Nationality: Robot?
About: Zero is a blatant knock-off of Canti. That's all you really need to know.